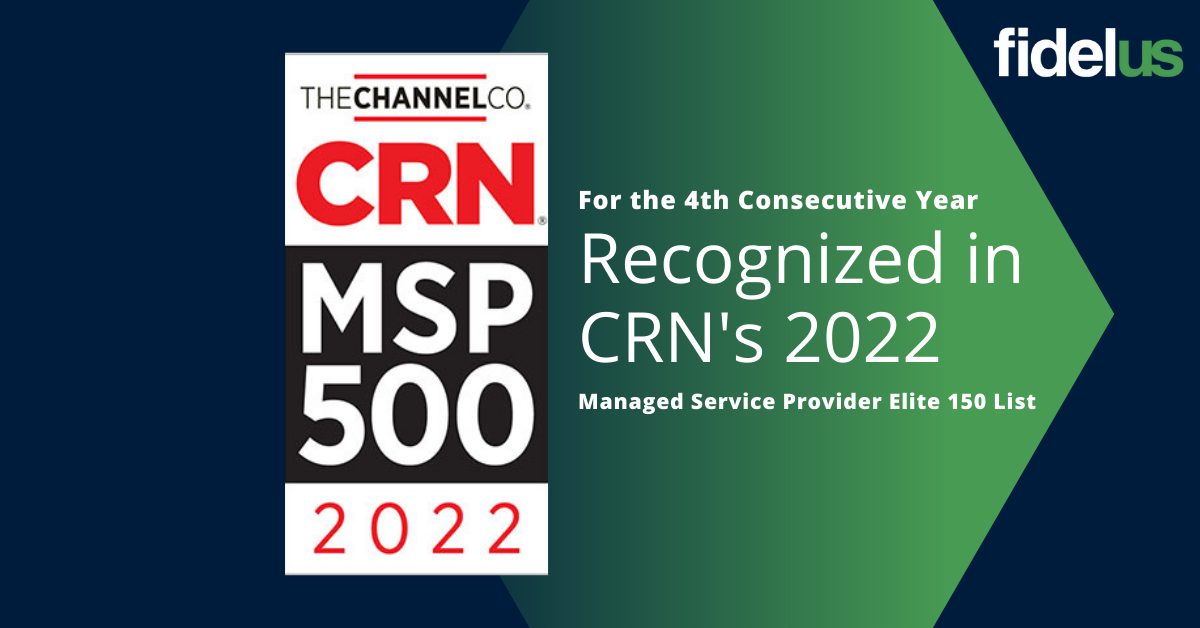 Exciting News! CRN®, a brand of The Channel Company, has named Fidelus Technologies to its Managed Service Provider (MSP) 500 list in the Elite 150 category for 2022.  
This annual list recognizes North American solution providers with innovative approaches to managed services. These services help clients improve operational efficiencies, maximize return on IT investments, and continuously help them navigate the complexities of IT solutions. This year in 2022, Fidelus Technologies has been recognized by CRN as a distinguished as a" Top Managed Service Provider and Consultant in North America."
This annual list is divided into three categories: the MSP Pioneer 250, recognizing companies with business models weighted toward managed services and largely focused on the SMB market; the MSP Elite 150, recognizing large MSPs with a strong mix of on-premises and off-premises services; and the Managed Security 100, recognizing MSPs focused primarily on off-premise, cloud-based security services. CRN's Managed Service Provider 500 list recognizes the top technology providers and consultants whose forward-thinking approach to providing managed services is changing the landscape of the IT channel.
Today's organizations require complex technologies while staying within their budgets and focusing on their core business. CRN's Managed Service Provider (MSP) 500 list identifies the most groundbreaking and innovative managed service organizations with advanced solutions with endless growth potential. Out of the three, we've been categorized as "Elite 150: The MSP Elite 150 have an extensive managed services portfolio, including on-premises and off-premises capabilities, weighted toward midmarket and enterprise customers."
Click here to learn more.
Find out more about what an authentic trusted Managed Service Provider can do for your business needs. Let's chat! To speak with a member of our team today, click here.