2021 is a lot like 1 year ago; except we cannot kid ourselves anymore: most companies are not going back into the office any time soon.
Companies' ability to stay in business will depend on the speed in which they adapt their business processes and continuity to competitive, sustainable virtual models that can be supported by existing IT paradigms. Equally important will be ensuring that their chosen IT partners have relevant business savvy to complement their IT chops.
Sure, you need your people to collaborate, but they must have a set of tools that your employees will want to use, that play nicely with each other, and do not require multiple support contracts and points of contact. To do it right, you will want UCaaS: Unified Communications as a Service.
So, exactly what is UCaaS? Let me share Gartner's crystal-clear definition:
"… is a cloud-delivered unified communications model that supports six communications functions:
Enterprise telephony
Meetings (audio/video/web conferencing)
Unified messaging
Instant messaging and presence (personal and team)
Mobility
Communications-enabled business processes
UCaaS infrastructure is owned, operated, maintained, and delivered by the provider. Typical characteristics include multitenancy (including tenant partitions residing on shared UC infrastructure, such as data centers, racks, compute, network, common equipment, and blades) and self-service web portals for provisioning, management, and performance/usage reporting. The provider delivers applications from a common platform and licenses the service for a monthly, recurring, subscription charge."
Think MS Office 365; but, for all your voice/data/video/messaging and collaboration needs. It is the same exact model, with the same benefits and efficiency.
Unfortunately, finding business-centric information about UCaaS can be a challenge.
There are 3 main terms every company considering UCaaS should understand…and, exactly how they relate to each other. That understanding will give your due diligence the context needed to separate tech-centric IT vendors, from true UCaaS Business Partners:
The Stack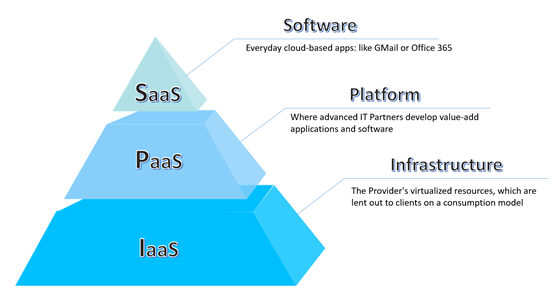 If we use Fidelus Technologies as an example, here is how this works to a client's advantage:
IaaS: This is where Fidelus has all the hardware to host anything from software, to servers, to storage; and, then lends it out to clients on a consumption-based, utility model. Other advantages are the ability to scale up/down on demand; and, that all updates, patches, etc. are tested in the IaaS layer before being deployed into a client's environment.
PaaS: Is a form of cloud computing that is utilized to deliver applications to your computer over the internet. It also allows both the provider and user to build and develop their own applications.
Fidelus used the PaaS layer of Cisco's UCM Cloud to create and deliver these value-add services to their clients:
1. The Fidelus Portal for ease of use – a single pane of glass for all things included with the service.
2. All interactions outside of the Cisco core products are web based. It makes them easy to get to and easy to manage, which results in easy adoption.
3. Flexible connectivity options for both system connectivity and PSTN.
SaaS: This is where UCaaS 'lives.' The major business advantage is that a 3rd-party vendor hosts and maintains the Software as a Service; and, companies have access to powerful business tools without using their own computers or hosting their own servers.
Fidelus runs their own business on this platform; and, last March they used it to transform from a successful 100% prem-based business to a successful 100% virtual business literally overnight. The business consulting, project-management, engineering, and customer-success directors are only part of Fidelus' UCaaS business value-add:
FMS (Fidelus Managed Services) are our in-house ITIL-certified specialists who are trained on each layer of the Fidelus 'stack'. That means you do not have to call MS for problems with Teams, Zoom for video issues, or Slack for issues with your messaging. Only one number for all questions and issues.
To quote Fidelus's CTO, Josh Reinmann: "Fidelus' UCaaS Solution is consultative, bespoke, provides ease of management and adoption, and delivers high touch service." Fidelus's UCaaS experts will be glad to sit down and consult with you on your virtual workforce challenges.